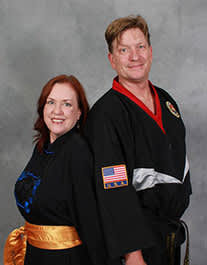 Gary Wayne
Owner at Family Martial Arts Center in Mount Dora, FL
6th Dan / Master Instructor
Master Gary Wayne started his studies on January 3rd, 1971 in Louisville, Kentucky with the World Tae Kwon Do Association. He tested for and received his 1st Dan Black Belt in April of 1975 by the age of 15. During that time he was the National WTA Junior TKD Sparring Champion from 1972-1975 winning at one point 48 matches in a row.

In 1976 he joined the South Central Karate Federation and in just two years was that Associations Lightweight and Heavyweight Black Belt Sparring Champion, to this day the only Black Belt that ever accomplished that feat.

In 1977 he joined the American Chung Do Kwon Tae Kwon Do Association and was certified as an instructor in 1981. In 1979 he was that Associations Black Belt Heavyweight Grand Champion and went on to train over 100 ACTA National Champions.

By 1983 he began his teaching career with the Clifford Graves YMCA in Clarksville, Indiana, teaching Tae Kwon Do there for over nine years. 1993 brought a new YMCA into his life, the Golden Triangle YMCA in Tavares, Florida. Master Wayne taught there for 8 years and produced many AAU ranked Black Belts, one of which was third in the nation in forms.

In 2001 he opened the Family Martial Arts Center in Mount Dora, Florida and has developed martial arts curriculum for 3, 4 and 5 years olds in addition to having the largest after school martial arts program in the area.